17 Best Affordable Gifts for College Students in 2022
Are you looking for affordable yet awesome gifts for college students?  It can be hard to know what to buy that special college student in your life. So, we've put together some great cheap gift ideas to help you honor and celebrate them!

In keeping with your affordability goals, all of these proven winners below are currently priced between $5-$40. And all of these gifts are great for guys and girls in college! You can personalize some of these just to their liking.
Good Gifts For College Students In 2022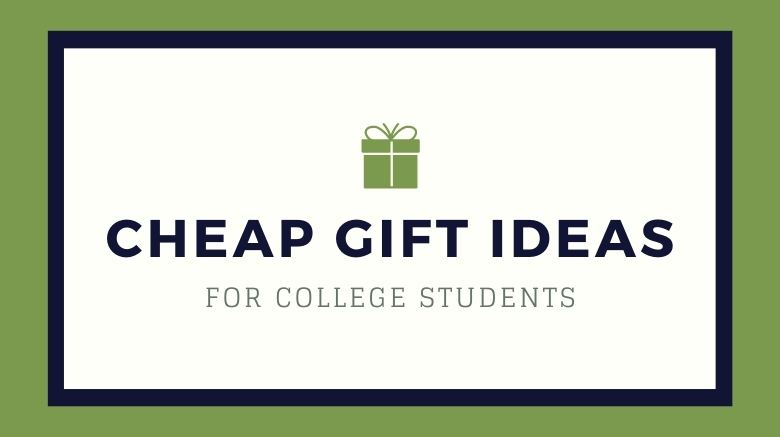 This post contains affiliate links. At no extra cost to you we earn commissions to support youth in need if you shop through the links on this page. Read our full affiliate disclosure here. 
One of the most meaningful gifts you can give is the gift of a memorable experience! College housing doesn't usually have much room to store stuff and neither does a young adult's first apartment. As things are opening up again we recommend giving your college student an adventurous experience such as an escape room, a trip to your local amusement, or a trampoline park.
Last year, we invited a young man who aged out of foster care without a family to Six Flags to celebrate his 21st birthday. He was super excited and grateful to be remembered on his birthday.
But right now, if you are still facing the increased restrictions of living during lockdowns, we recommend other outdoor experiences. Visit a local national park, go camping, or hit the water on a boat.

Don't worry if it's not something you've done before, new experiences will make it all the more memorable for all! And what college students need most right now is to add some happy memories into the current mix.
Wherever you live, Groupon also regularly has fun events available under "Things to Do" and "Getaways." You can see the latest deals here.
If you'd rather put something in a gift bag or send it in the mail, we've got some great gift ideas for that below.
Useful Gifts Every College Student Wants
The next few items made our list of useful gifts for college students. We've put the more "fun" gifts further below for all 20 somethings (whether in college or not).
Dorm Bedroom Set
Help your college student settle into their dorm in style with this cool and classy bedroom set! There's a variety of styles and colors to choose from but we love this blue.
Care Packages
When you're in college, you're always on the go. Having snacks handy to grab and go, so you can eat between classes or while staying up late studying can be helpful.

These are especially great for a college freshman who is still adjusting to a life where they are in charge of managing their own food for the first time.
A Personalized Laundry Bag
Give your young adult something personal and useful!
Personalized Gift Boxes
Top Study Tools
Doing a good job at taking notes is key to success, not just in school, but in life. If you haven't read it yet, check out The Importance of Note Taking to Success in life. There we also outlined some of the best methods of note-taking, one of the top methods is the Cornell style.
Guides For College Freshmen
This Personalized Gift
More Gifts for 20 Somethings
Maybe college isn't for your "college-aged" kid. Maybe they, like so many others this year, are taking a gap year. We've got a few more ideas that should be a treat for them no matter what path they're on.
This Snuggly Blanket
The Gift Of Laughter
This Cook Book From Snoop Dogg
If you want to start off a little easier, there's also the very popular, 5-Ingredient College Cookbook: Easy, Healthy Recipes for the Next Four Years & Beyond
.
Best Gifts Every Young Adult
Whether your young adult is in college or not, being smart with your finances leads to financial success in life. There are millionaires out there who never went to college, but built their own wealth through intelligent investing. There are even more college grads drowning in debt.
If you have a retirement account, you know that when you're young is the time to start! Compounding interest and making smart choices in where you put your money can help create a more solid future.
Give The Gift Of Intelligent Investing
Get your kid rolling towards success with their own investment account at Ally, Schwab, or even the Millennial favorite Robin Hood. Put in a little money to help them get started.
Making The Most Of Your Gift
For more ideas on how to support the college-aged youth in your life:
The Keys To Success: 10 Things You Can Start Doing Now

How to Get Your Young Adult To Move Out

Get Free Inspirational Quote Adult Coloring Pages